Fort Reports Help
Welcome to Fort Reports
An elegantly powerful inspection tool for you iPad.
While you inspect, a professional report is created, ready to email to clients from wherever you are.
Note the Layout. There are 3 main areas to the App: "Set-up", "Report" & "Preview" @ the Top of the screen
Most of the inspection is done in the "Report" area, but first, start in "Set-up".
Set-Up
Create your "User" Profile and start a New "Report" @ the Bottom of the screen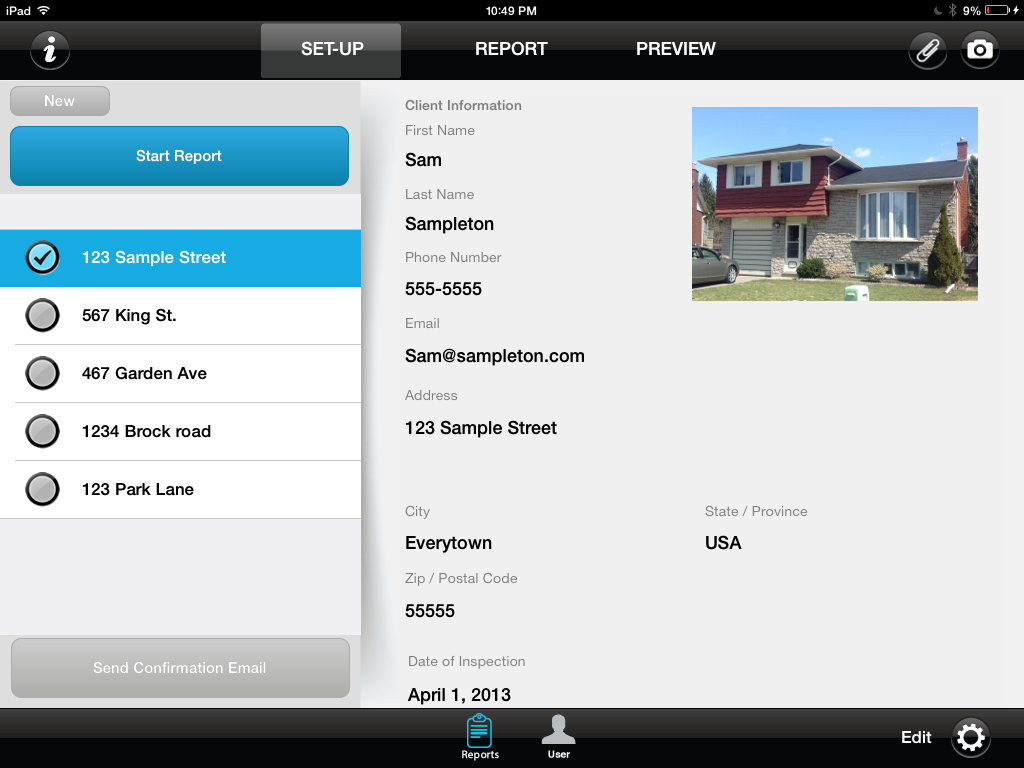 Reports
Manage your reports, Address details, and create New Reports. Setup reports ahead of time by entering address information.
User
Enter Company information (which will be added to reports). Manage your login & user account.
Tips:
Logo added by choosing an icon from your photo Library.
Get your icon onto your iPad using iCloud or Dropbox. Place it, when in your "User" section.
Legal added by Copy, then Paste your Legal Agreement & Conditions
in the bottom "Notes" field.
Buttons

 Photo Library (Paperclip / @ upper Right)
Access & use your iPads photo Library. Transfer your Logo from here.
Tips:
– When "Rushed" or "Cold", take multiple photo's; Then add them to the report later.

 Camera (Camera / @ upper Right)
Photo's stay in their field(s), when you use our Camera, on the Spot.
Tips:
Add "Multiple" photo's simply by adding "Categories" (example = Lets say its a side split roof).
Lower right button is the "Edit" button. Hit it. Green plus signs show up.
First roof is say: North, 2nd level and in bad shape. (all that is detailed). ADD photo.
Second roof is: South, 1st level but is in better shape. ADD photo
Third roof is a porch: on the West, 1st level and is fine. ADD a photo. You can keep adding categories with direction and details, that have their own photo.
This is also really handy when you have a huge house and multiple toilets, sinks, plugs, tubs; you name it ADD categories: Toilet (Basement), Toilet (2nd floor, East), Toilet (2nd floor, S.W.), etc, etc. All with their own photos. I find it works really well.

 Edit (CogWheel / @ lower Left)
Add "Reports" Address, Clients info, Direction, Weather etc. Don't forget top press "Save" when finished.
Add "User" Company info, Logo, Terms & Conditions.
Add "Categories" by pressing the green "Plus" sign. Delete, pressing red "minus". #2 will be added @ the bottom of that list.
Add "Descriptions" by pressing the green "Add New Item" (Top center).
Edit "Descriptions" AND "Details". Not happy with pre-installed comments? No problem … simply change.
All personalized "Edits" will remain with your account.

 Help (Info icon / @ upper Left)
Helps unleash FortReports power.

 Notes (Pencil / @ upper Right)
Add personalized comments, to any section.
A "Highlight" button (bottom center in the Notes window); will Push that specific Note to the top of the report.
(example = you find "termites" so you wish to Highlight this very important point).

 Limitations (Binocular / @ lower Left)
Used in Report section only advising why you could not inspect. Limits liability.